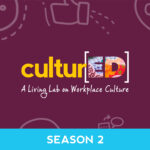 More than a beloved eatery, Ben's Chili Bowl in Washington, D.C. is a cultural landmark. Owner Virginia Ali shares how culture—and, of course, delicious chili dogs—has helped her family's restaurant become a pillar of the community on our latest episode.
Melissa: Welcome to the cultur(ED) Podcast. I'm Melissa Jezior, your host. On this podcast, I talked to top culture makers in the world today to unpack the visible and not so visible forces that make up this often-overlooked superpower of organizations. Season two of cultur(ED) is focused on changemakers from the restaurant industry. And I'm honored to have with me Virginia Ali. Owner of Ben's Chili Bowl. I don't think there's any business as iconic to Washington, DC and Civil Rights history as Ben's Chili Bowl. It's a cultural landmark and its history is as beloved as it's half smoke with chili. Welcome, Virginia. Thank you so much for joining us.
00:40
Virginia: My pleasure. Thank you for having me.
Melissa: Well, first off, congratulations on the recent celebration of your 60th anniversary. 60 years. You and your husband Ben were only 24 when you started and Ben's Chili Bowl in 1958. What stands out to you most clearly from your first year in business?
Virginia: Oh wow, that first year in business was interesting. I had been employed on U Street which was known as Black Broadway back then because it was an African American entertainment center. There were three big theaters in three blocks and jazz clubs and restaurants and that kind of thing. So, I was familiar with the area and when we wanted to open up a restaurant – we wanted to find an ideal location. The ideal location would be where there's a lot of activity. We were fortunate enough to find the property and 1213 U street, which was formerly an old silent movie theater called Minnehaha. And we were able to lease that space.
And convert it into Ben's Chili Bowl … and we found the architect, contractor, the plumber, everything in the area at African American owned businesses right there in the community. So, we were able to open the business and it's was a new modern looking, place at the time, with lots of color, and it was readily accepted by the community, and we wanted very much to make it a community-based place, and we were able to do that. So, things went very well that first year. And we've been there as I said, 61 years.
Melissa: That's amazing. That's fantastic. Well, restaurants can be infamous for their culture. Tell me a little bit about the culture you and your husband built at Ben's Chili Bowl, and what's remained consistent over time, and what's changed?
2:26
Virginia: Well, we, as I said, we wanted to be a community-based place. It turned out to be kind of a meeting place, a gathering place. We were there during the Civil Rights movement in the Sixties. And, of course, we were able to participate in that in terms of, we had demonstrators as we call them demonstrators back then, we called them demonstrators back then, not protestors. And, and we had the big March on Washington in 1963, where Dr. King also had a satellite office in Washington, DC at 14th and U. So, whenever he was in town, he'd spend, a little time at Ben's chili Bowl, and I had an opportunity to sit with him on occasion. And listen to him, talk about his dreams. And, so, in that, great, big March, that took place, where he gave his I Have a Dream speech. There were so many people in town, thousands of people in town for that. And we were, as I said, the gathering place for many of the demonstrators, we managed to get by you know, and then you'd see Dick Gregory, or you'd see Harry Belafonte or all these people, that took the time to pop into Ben's Chili Bowl. Unlike today, and unlike today, because of the pandemic you know. It's an interesting time.
3:35
Melissa: Absolutely. So, meeting people like Dr. King and other Civil Rights leaders during your lifetime, what, what impact did meeting those influencers have on you?
Virginia: Well they were strong leaders that promoted non-violence. And I found that to be effective. I found that, as I said, we had that much. And in 1964 the Civil Rights bill was passed. In 1965, the Voting Rights Bill was passed. Unfortunately, and I'm terribly sad to see that now our daughters and sons are fighting for the same basic human rights that we fought for back then in the 1960s. We're still doing that. There are still protesters out there fighting for the very same thing.
So, what's impressive today, for me is we don't have that strong, non-violent leaders in front of us, but we have all these young people coming out and doing it on their own. Right. We have all these young people coming out on their own, on their own conscience and from their own heart out here and knowing and recognizing that we need systemic human rights, laws passed for people. And I'm so impressed with it. Diverse, large numbers of diverse crowds. Not only in Washington, DC, but all over this country, and all over the world.
5:02
I think that's a major difference in what happened back in the sixties. And I'm so proud of them. And so, proud that they're being nonviolent. We had some agitators, but, they're done with that now. And I'm just encouraging them to endure and not give up because we've got to make some systemic changes here.
Melissa: So, what do you think then, as a business leader? What advice would you give to other business leaders on what we can do better to support the Black Lives Matter and diversity and inclusion that you were talking about?
Virginia: We support any way we can. You know, we had some problems because of the virus and we were struggling because it affected our businesses as it has affected everyone's business. And because we had that, we've gotten so much community support and because of that outpouring of love and support, we were able to turn and give back to our community to give back to their medical staff by providing food and helping them in any way we can, whether it's a donation of food, or monetary donation. And even participating. If you're younger, than I am, I think you should be demonstrating as well.
Melissa: So what has made – we've been talking about all the things that you've seen from the nineties to race riots, You know, tough social and economic times in the seventies and eighties, revitalization of the U street corridor and the nineties. Now COVID-19. And more race riots in 2020, what makes Ben's so resilient?
6:30
Virginia: As I said, we will are a community-based place and the community has always been there for us and we've always been there for the community. In addition to that, of course, you know the chili dogs are delicious right?
Melissa: They are delicious, I will attest to that.
Virginia: And we tried to provide a family style atmosphere. We welcome everybody. We've always done that and we work hard. We've had very wonderful employees that have been with us for many, many years, I think we just have to keep doing what we do. It's hard for us now because we have had to curtail our hours, We've had to close some of the some of the Ben's Chili Bowls but the original is open. We do have outside seating a little bit now, doing this social distancing thing. And we're doing our best. And I think that just enjoying what we do, I love people. I've been there for 61 years, as I said. And I was going every day until the virus came to town. Now I'm trying to be safe because of my age.
7:37
Melissa: And I know that I can only imagine how frustrating that must feel. I'm sure you're ready for the new normal or to get us past this back to normal, again, will be, I think, a sigh of relief for everybody.
Virginia: A great relief for everybody and especially now, I miss with all the protesters in town and around town. I'm sad I'm not getting to see them, I do miss that, because I like to encourage them as well. And that, that's really hard for me, but, this too shall pass. Right?
Melissa: This too shall pass. I believe that as well. I absolutely believe that as well. So what's made you want to keep fighting with all of this craziness related to the COVID pandemic? And you know, I think it's been a hard thing for many restaurants during this time. I've heard just 15 of your 65 members were working and I heard your sales plummeted 80%. What made you still want to fight to survive?
Virginia: It's what we do. We've been a part of the community. We want to stay that way. Small businesses are what make this country work. Small businesses are the ones that connect to communities. So we have to fight to keep our small businesses strong and it is an effort. It's a serious effort.
8:50
I had the good fortune of having three sons that joined me and their wives and so, now that they are the younger generation, and I'm encouraging them to try to hold on to our culture and our history. This is part of our history. This is the part of U street that survives, which, as you said, we survived the riots of 68. We survived the influx of drugs where a beautiful neighborhood became a ghetto. We survived the construction of the green line subway system that dug up the entire street and left us without a car, passing in front of us for quite some time. And now we've survived the new neighborhoods, and we've had wonderful guests all over the years. Just imagine. We were there to see and witness the election of an African American president, something folks my age didn't expect to see in our lifetime. And President Obama's, very first outing in Washington when he came to Washington as President Elect, was at Ben's Chili Bowl.
Virginia: We have these wonderful, wonderful memories. And I think about people like Dick Gregory, who was a regular then who is a major civil rights activist after he was first comedian, and it's in a number of things, but I do remember. And then, when he realized that we had picture on the wall on our mural, he came down to see it. And spent so many hours with me that day. But, I just remember then he died I guess a couple of months later. And I was so touched by the fact that on his very last visit to the Chili Bowl. The funeral service was Saturday. And on Sunday there was a funeral march.
10:44
Virginia: The funeral came from the Howard Theater, up U street, by Ben's Chili Bowl, where this procession, which included, of course, the family car and the hearse and the marchers. And the musicians. The musicians next. And then the marchers. They came up the alley, eventually, by Ben's Chili Bowl, and stopped where his pictures on our wall were and stopped there for a moment. I was so touched by that very last visit to Ben's.
So those meaningful things, to me, and Jesse Jackson if he's ever in town manages to come by Ben's. And these are things that are part of our history and wants me to keep going. Because there's still history to be made. Our young people, my children, and their wives can now move forward and keep it there for another 60 years and make more history. Be a part of it, right?
11:41
Melissa: And you also mentioned you had three sons who are now involved in the business. My company, Eagle Hill is also a family owned and operated business from time to time. I feel like my 13-year-old self shows up to work every once in a while, unintentionally. But tell me, what does it feel like working with your family and how's that lended to your success and longevity.
Virginia: Well, we were very surprised that they wanted to do this, because really, restaurant work is really hard work, and you have to love it in order to be able to do it, and to do it effectively, you know? So we were very surprised when they joined us. But it's wonderful. I mean, whenever I'm going down there, I get to see them because the original U street, it's basically their headquarters, right? So even if there are at the other Ben's around town, they will, at some point, during the course of a day show up, at the old original spot. And that's meaningful to me.
And then we have three daughter's in-law, two of whom are full-time with us. So, I'm just having a grand time. Of course, there are some challenges every now and then. One doesn't agree with the other one, but that's a family thing that we work through. And I think it's just wonderful that they wanted to carry on this little legacy that Ben and I started 61 years ago, and I was so flattered by that.
Melissa: I'm sure that must make you proud. I can imagine, do you get the question often – when are you going to retire?
Virginia: Yes, I don't plan to.
[Laughter]
Virginia: It keeps you healthy. When you're busy, you don't have time to be sick. If you wake up in the morning and feel a little dull headache or a little sluggish you can lie down there and nurture it and let it just become bigger or you could take a quick shower, throw on something, and go find something to do. And you'll forget about the little ailment you had.
13:89
Melissa: I believe that. I believe that as well. Because especially working with my parents every day, I can see the same thing and they say the same thing that you just said exactly. It keeps you young.
Virginia: It keeps you young. It keeps you healthy. You don't have time to be sick. That's the whole key. And I really, really, like your parents, am living proof that it works.
Melissa: I believe it. So during your life, you've seen so much. What do you think has been the biggest or most impactful change you've experienced over your lifetime, Virginia?
Virginia: Oh, wow. There have been so many changes, you know. Wow. There've been lots of changes. And I think about that. You know, I think about growing up, I grew up in the State of Virginia with segregated schools and all of that. I came to Washington to the big city and witnessed a little bit more of segregation, then I witnessed integration. So, there have been changes, and then, you see the advancement of science and medicine, and all of that, it's just wonderful to see, and to have lived long enough to experience all of this.
It's been a real pleasure to do that. And now, I've got the biggest change of all, when I see what we're going through right now. Dr. King was just an amazing leader that we had, and to see how to see how effective he was with his nonviolent movement, was a pleasure.
So I'm definitely now going through the changes that we're experiencing today. Today's experiences are monumental. I think that a big change is coming. I think we're on the verge of being able to make our world better. I think we're on the verge of being able to make our own world better certainly, when it comes to basic human rights. I'm hopeful.
15:25
Melissa: I'm hopeful, as well. I'm very hopeful as well. I just wanted to circle back with one more question related to the time you spent with Doctor King. Maybe you could tell us a little bit more about those hours that you spent together, and how they kind of impacted you.
Virginia: Well, I can't say that there were hours, because he was always a busy person, and he was always one that everybody wanted to talk to. So I had my time with him when he had come in and sit for a little while and then we'd be interrupted. Right. But just talking to him and seeing his soft, spoken word and what peace meant to him and how he had was able to convince people that the appropriate way to make change is to do it peacefully.
It was just thrilling to hear him. You felt like he never lost his cool, he never got angry. He was just calm, and collected, and believed in what he was doing, and knew it was the right thing to do, and it just taught me that this is the way everybody should be.
16:32
Virginia: His ability to deliver and to convince people, I mean when he was in the pulpit when he was doing that, I Have a Dream speech it just, it just touches you; just transforms you into another kind of thinking. It certainly did for me.
Melissa: So, yeah, I can totally see that, really working on stretching how you think about things.
Virginia: And his concern for other people, he was always concerned for other people, wanting to make the world better for his children and for everybody else's children and that was his goal and that's what he thought about and talked about all the time, That's the only thing he talked about, making this a better place, better world, for the new generation and for all people.
Melissa: Well, it seems that you and your husband managed to create a small microcosm of that at the Chili Bowl, at a minimum.
Virginia: Well I've certainly enjoyed my experience there, I can tell you that. I've enjoyed it very much, and I continue to when I get back down there. A very small little place, not a big significant anything, but it certainly has welcomed many people. And I'm so grateful to them for coming and grateful for the outpouring of love and support. And I remember when we were there during the riots of 1968 in the neighborhood and said, Oh, no, no, no, no, no, no. We've got your back don't let—no one is going to touch Ben's. No one's going to touch Ben's.
Melissa: And they didn't, did they?
18:10
Virginia: And they didn't. So we've been there all of these years. And it's just been a wonderful experience knowing that people care about this little place. You know, I remember when we did the first big celebration my son said to me on our 40th year, Mom, I think we should celebrate you being there for 40 years. Ok.
My husband and I had planned our vacation to Trinidad. We went to Trinidad in August. And he called after we'd been there a week and said, Mom, you guys are going to have to come back because this is a little bigger than I anticipated. We came back on August 21st. The celebration was August 22nd. They picked us up at the airport and said, I need you down at the Chili Bowl at eight o'clock in the morning. When we got down to the Chili Bowl at eight o'clock that morning, the street was closed. There was a press conference going to take place. I think at nine o'clock, or whatever time that morning, it was going to be a big press conference. The city officials were all there. Jesse Jackson was there. There was so many people. But the media, from CNN, to NBC to ABC, everybody was present. And more importantly, the line of people that were out there all day long. A block long to buy a hotdog because we weren't giving anything away. Was overwhelming. For me, I was so so excited that we really mean something to this neighborhood. This is so special. Yes. It was so special and that continues. We had a 45th anniversary and the 50th and the 55th. And 60th so now I guess I'll have to hang on for the 65th.
20:00
Melissa: And you mentioned, you mentioned that a lot of your employees have been with you for many years. Why do you think they stay so long?
Virginia: They become part of the family. We make them feel like family, they make us feel like we're the parents.
Melissa: I have heard people affectionately call you mom.
Virginia: Yeah, everybody, the staff always called my mom.
Melissa: That must, that must also make you feel proud.
Virginia: Yep, Yep, I do feel very proud, and I treat them like my children. If I see them doing something that I find inappropriate, even if it's a personal thing, I get involved.
[Laughter]
20:35
Virginia: My husband considered himself a motivational speaker, and when we hired back in the day, most of the employees were students, you know, they were high school and college students, Because in those days, we didn't have financial aid like today, so many people had to work to go to school. And I remember when they were coming in from Howard or DC Teachers College, or something and they were students, we'd ask to see their school schedule before we gave them a work schedule, as well, because we did not want someone with a more early morning class, to work late at night.
So we were able to do that for those kids, and now we have people all over the country, in different fields and professions. Now they bring back – the third generation's coming back now. To see the Chili Bowl or to go to college or something, They all stop in and remind us of their parent or grandparent that went to school here. So, it's pretty amazing. That's what happens when you stay a long time, right?
So, Virginia, there's a question we ask all of our guests, and that is, what's the first word that comes to mind when you think of culture?
Virginia: Love. I think of love. Yes, Love is the first word that comes to mind. Culture is so important – to maintain culture and to teach the next generation. Your culture. And I love meeting people from all walks of life and from all parts of the universe. Because I like sharing our culture. I like knowing about someone else's culture. It's just very fascinating to me, and it's something that we have to hold onto in this city. And particularly the African American culture, I think we need to hold on to that, and to pass that on to our children, and grandchildren, and to the world. It is a beautiful culture.
Melissa: I wonder if it's taking forward the be open mindedness into the future of learning, about everyone's cultures, and how they're different, and how they're the same, that might actually be the uniting factor.
Virginia: I would like to think that would be true. Absolutely, It's fascinating to learn about other people's cultures, and to learn about their religion, and their music, and their everything, and just exchanging that experience is meaningful. Just exchanging that experience. So that's what I would do at the Chili Bowl. I had people coming from all over the world and to sit with them from another part of the world and learn about their culture and then they're asking me questions about mine. It's just one way to get to know that we're all just human beings. We're all just people, right? We are all just people.
23:27
Melissa: So if you could have one super power, what would it be?
Virginia: If I had one super power? If I had one super power, what would it be? Let me see. I would just take away everybody's anger. Take away, everybody's anger.
Melissa: I love that, that's fantastic.
Virginia: Make everybody happy.
Melissa: Yes, indeed, happy. That would be a great superpower actually, that would be a great superpower.
Melissa: That is amazing. That is, that is amazing. That's awesome, I love that. Well Virginia, thank you so much for taking the time to speak with me and providing the insight, and all you've done for the community. It's really, it's really wonderful. And I loved, I loved the story of Ben's Chili Bowl. It's really, it's really a beautiful one.
Virginia: Well, thank you so much and thank you for including us in your podcast.
Melissa: Wonderful, that's right. I believe that once this is all over, I hope to have the opportunity to meet you in person and share a chili dog with you.
Virginia: Thank you so much. I'd love that.
Melissa: Thank you so much. Take care.
Virginia: You too. Have a great day,
Melissa: All right, bye.
Melissa: Thanks for listening to our cultur(ED) podcast. If you like the show and want to learn more, check out our cultur(ED) website: culturedcast.com. And please follow us on iTunes. If you'd like to know more about our research, visit eaglehillconsulting.com/culture.
24:59
[End of recording.]